Smoked Barleywine Bacon Jam
06.27.13
With the 4th of July around the corner, it seems fitting to post a recipe that'll pair with those burgers hitting your grill next weekend. Oddly enough, I don't own a grill. My 'to cook' list is flood with grill related recipes, but my backyard is undergoing some serious work. That'll be my treat-yo-self gift once it's complete. Luckily, you don't need a grill for this burger accompaniment, although, let's be real here, nothing beats a properly grilled burger.
Originally posted to Love2Brew.com, but I couldn't help but share on my own site as it's such a gosh darn tasty (albeit gluttonous) recipe. 
The bacon obsession knows no boundaries, but bacon jam? While shopping at Whole Foods, a cheesemonger suggested I try onion jam and I seldom say no to free sample. It was phenomenal. Savory jams aren't common, but good gosh can they be delicious. This particular recipe tries to replicate the flavors in that onion jam, but with bacon. Because, well, why not. It's the perfect burger topper, or spoon over camembert cheese and serve with baguette. Or just grab a spoon. It'll keep in the fridge for a few days, if it lasts that long.
Ingredients
1/3 lbs. uncooked bacon, cut into 1/4″ strips
2 large onions, diced
1/2 jalapeno, seeds removed, diced
2 cloves garlic, finely minced
1 tsp. ground coriander
1/2 cup brown sugar
10 oz. Smoked Beer*
1/2 tsp. kosher salt
freshly ground black pepper
1 dash worcestershire sauce
1 tbs. white balsamic vinegar
zest of 1 orange
1/2 cup freshly squeezed orange juice
*Choose a smoked beer that isn't overly bitter. I used an Oak Smoked Old Guardian. An aged barleywine is a great alternative, but swap out the fresh jalapeno with a chipotle in adobo and 1 tbs. sauce to make up for the missing smokiness.
Steps
Slowly render bacon in a large non-stick saucepan over medium heat. Once crisp, remove with a slotted spoon and drain on paper towels.

Saute onions in bacon fat with a pinch of salt until well caramelized, reducing heat as needed to prevent from blackening, about 15 to 20 minutes.
Add coriander, jalapeno, and garlic; saute an additional minute or two.
Add remaining ingredients, less the thyme, and simmer 10 to 15 minutes, stirring often, until thickened. Remove from heat, add thyme, and season to taste.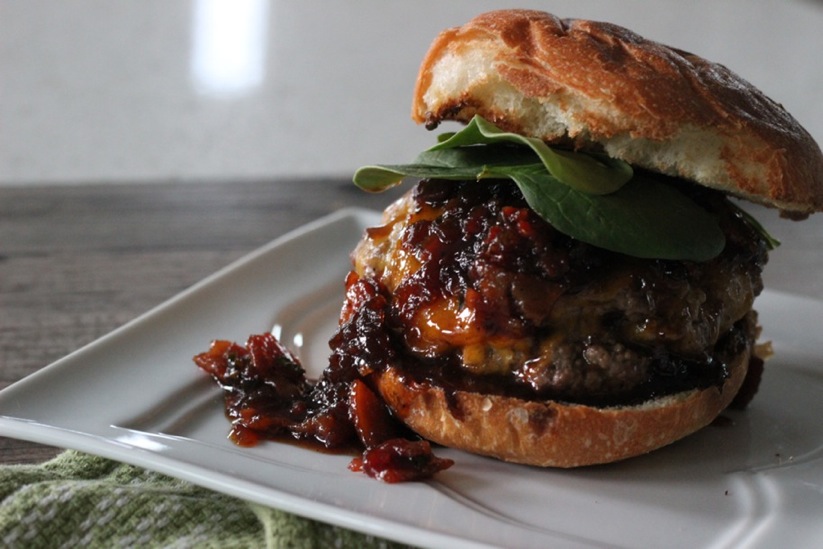 Pictured: Bacon Jam slathered over a medium cooked burger with a thin layer of mayonnaise (bottom bun to prevent sogginess – this fella is juicy), melted sharp cheddar, and spinach on a toasted Kaiser roll. Don't forget to serve with a cold beer – nothing too sweet or bitter – contrast is key on this one; I'm reaching for an Anchor Steam with this burger.
Tags: bacon • bacon jam • burger • cooking with beer • craft beer • jalapeno • jam • onions • recipes • savory • smoke
---
---
comments powered by